The Holiday Season usually brings gingerbread to mind.  So the First Grade classes came together for a special lesson involving the story The Gingerbread Man.  We even made our very own Gingerbread Man by following a recipe. (A great lesson on sequencing and following written directions!)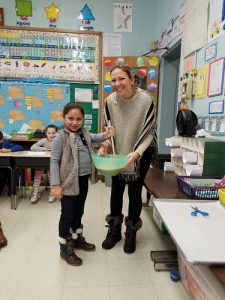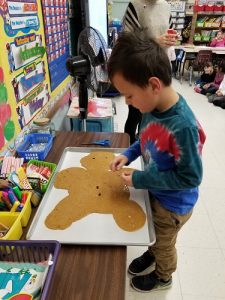 After sending our Gingerbread Man to the school kitchen to be baked, the First Graders happily went back to our lessons for the day.  All of a sudden, we were interrupted by the cafeteria ladies with the news that our Gingerbread Man had jumped out of the oven and ran out of the kitchen!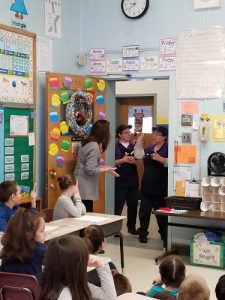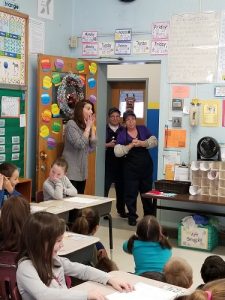 And so, the hunt for our Gingerbread Man began!  We searched high and low for clues as to where the Gingerbread Man could be hiding.  We even enlisted our Big Buddies to help us make Wanted Posters to hang around the school.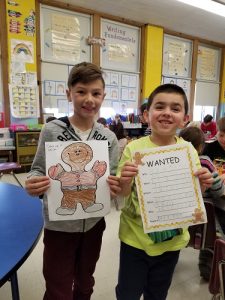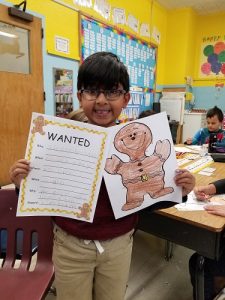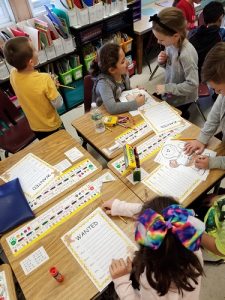 We received many reports of Gingerbread Man sightings.  He even managed to turn the Principal's Office upside down one evening!  He was a fast and mischievous fellow!  The children came up with the ingenious plan of making Gingerbread Houses to lure and trap the sneaky Gingerbread Man.  Our plan worked!  The Gingerbread Man was found and brought back to us.  A great big Thank You to the wonderful parents who came to our class to help build Gingerbread Houses.  The children had a great time!